2018
Nick Pappas
July
June 2019, Initial prep & dedication of
of

ArunachalaRamana Shrine

ரமணகுரு கோவில் பணிமிக நன்றாய்
தமதகம் நச்சிய ஆன்மா - எமதிடை
வைத்து துணைசெய் முனிரமண அன்புற
தைத்து உனதருள் தந்து.

ramaṇaguru kovil paṇimiga naṇḍrāy
tamadagam nacciya ānmā - ĕmadiḍai
vaittu tuṇaisĕy muniramaṇa anbuṟa
taittu unadarul̤ tandu.

As the shrine for Guru Ramana is constructed
You are nothing but our beloved Self
So please bless us with your complete vision
In this pursuit by keeping it tight.

அம்மையும் அப்பனுமாய் அன்பில் ரமணகுரு
தம்மக பார்வையில் கைத்தடி - எம்பிரான்
ஊன்றி மலைவழி மெல்ல ரமணதாசன்
ஓன்றாய் மகிழ்ந்திட வந்து.

ammaiyum appanumāy anbil ramaṇaguru
tammaga pārvaiyil kaittaḍi - ĕmbirān
ūṇḍri malaivaḻi mĕlla ramaṇadāsan
oṇḍrāy magiḻndiḍa vandu.

As mother and father, Guru Ramana with love,
In our inner view, our Lord, with a walking stick
Balancing, walking slowly from the hill,
Has come to bless Ramana dasa as One and give bliss.
---
<< 19-0612-165045 >> (1 of 37)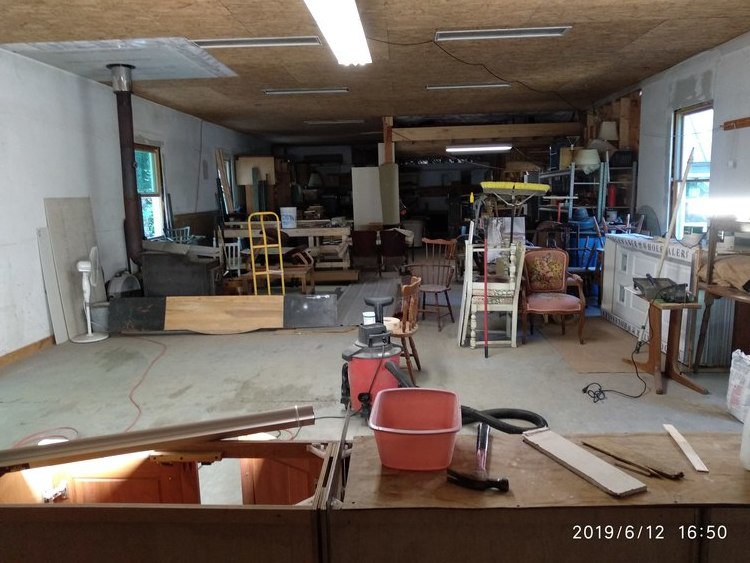 << 19-0612-165050 >> (2 of 37)



<< 19-0612-164857 >> (3 of 37)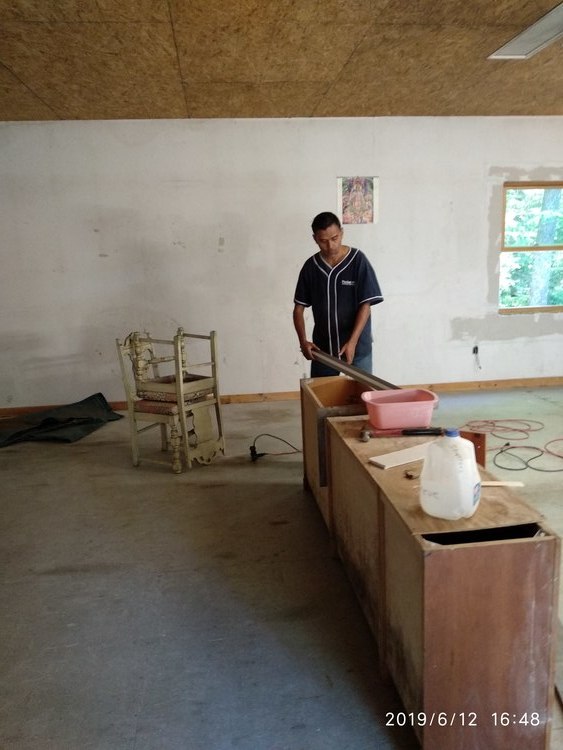 << 19-0612-165011 >> (4 of 37)



<< 19-0612-181027 >> (5 of 37)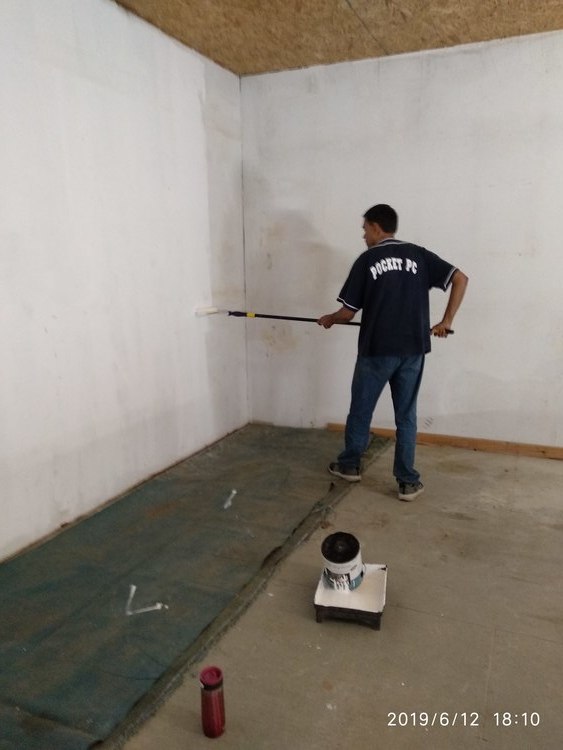 << 19-0612-181031 >> (6 of 37)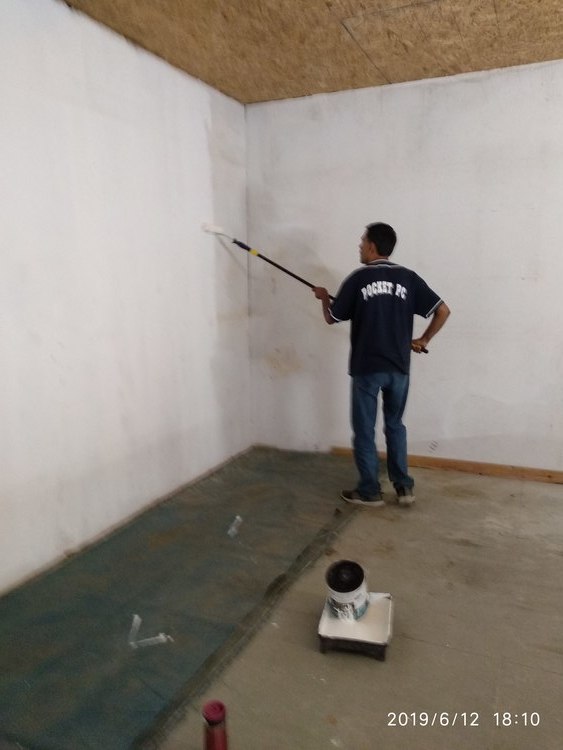 << 19-0613-091225 >> (7 of 37)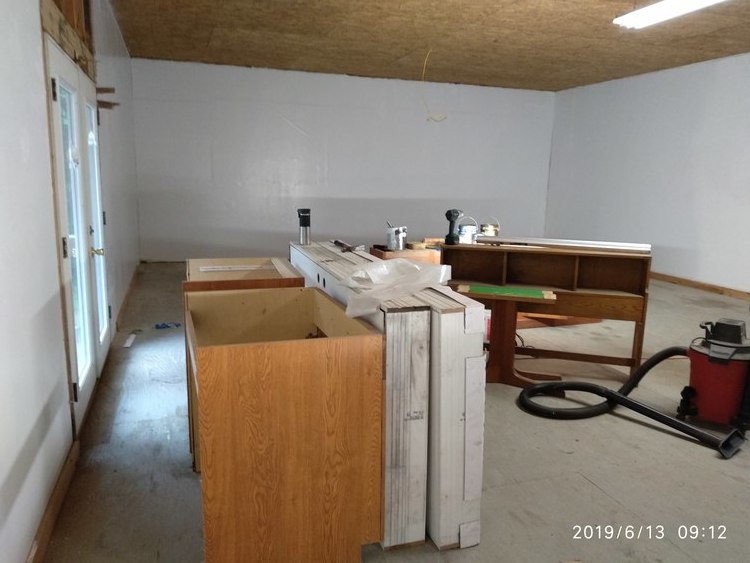 << 19-0613-150420 >> (8 of 37)     in case there's any doubt that we were actually using paint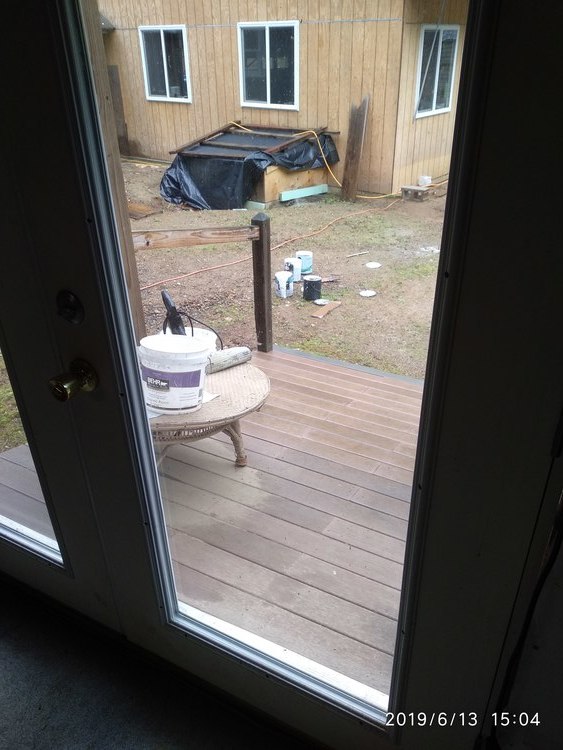 << 19-0613-150535 >> (9 of 37)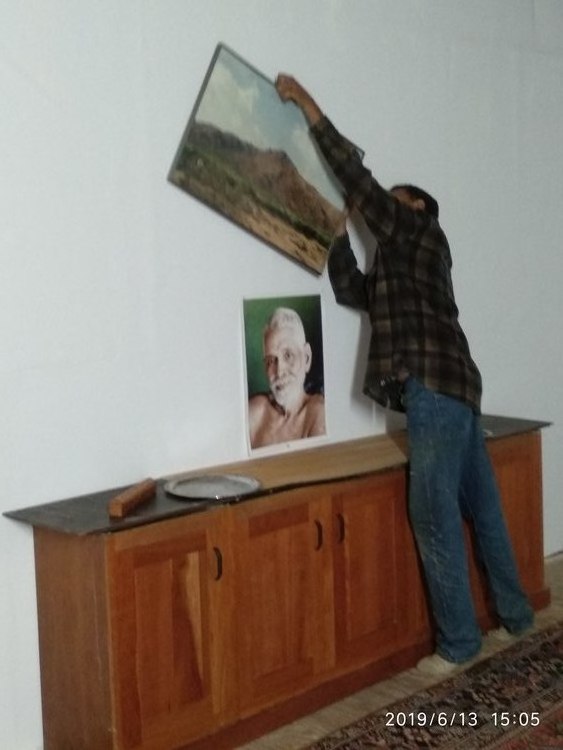 << 19-0613-150548 >> (10 of 37)



<< 19-0613-152339 >> (11 of 37)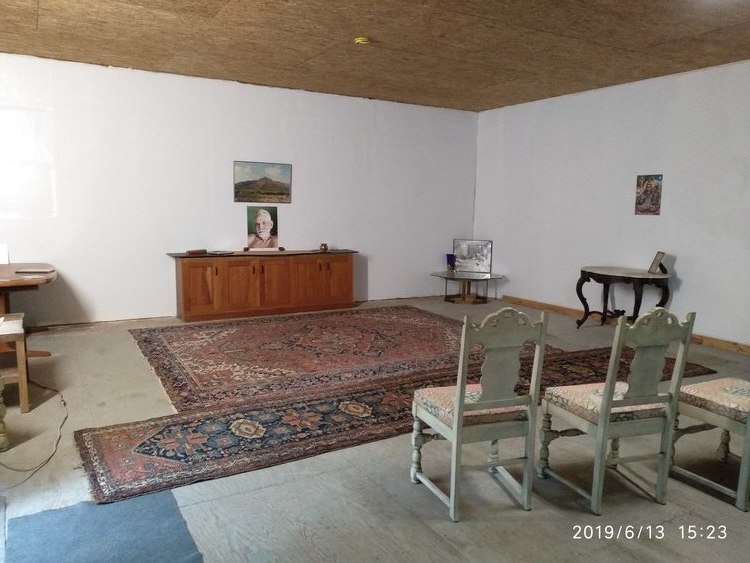 << 19-0613-153940 >> (12 of 37)     circa 1974 negative print of a Sri Cakra line drawing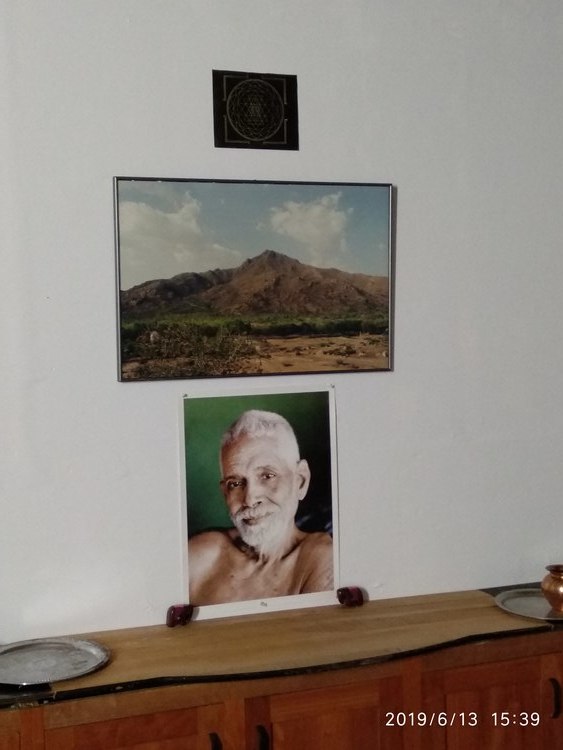 << 19-0613-154015 >> (13 of 37)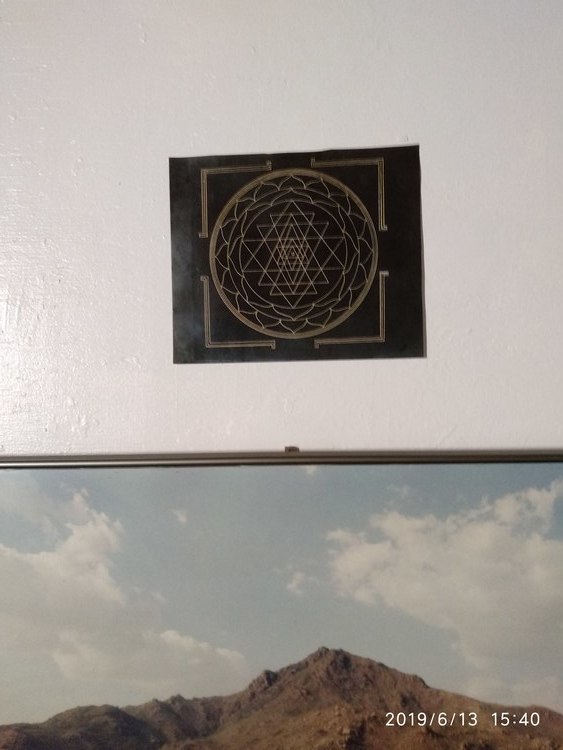 << 19-0613-161826 >> (14 of 37)



<< 19-0613-161835 >> (15 of 37)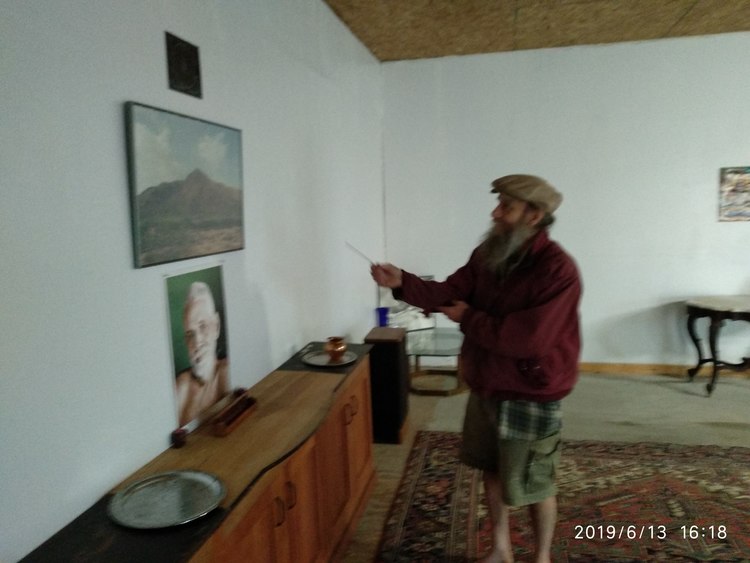 << 19-0613-162048 >> (16 of 37)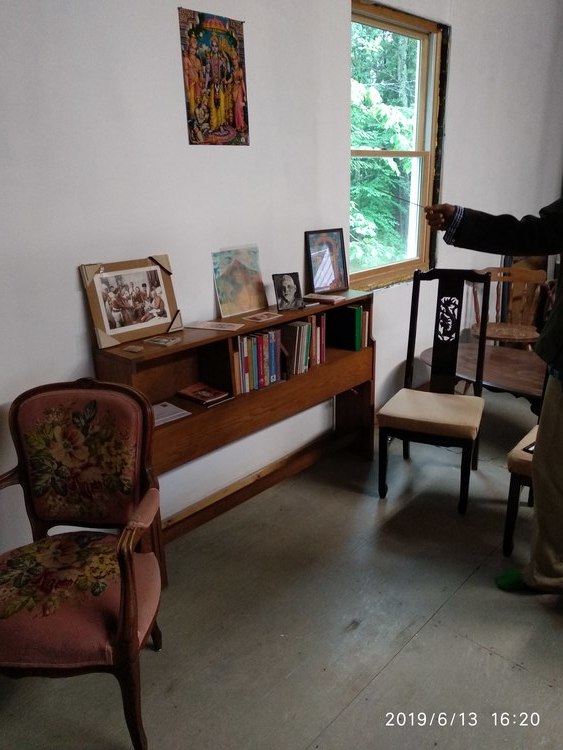 << 19-0613-162112 >> (17 of 37)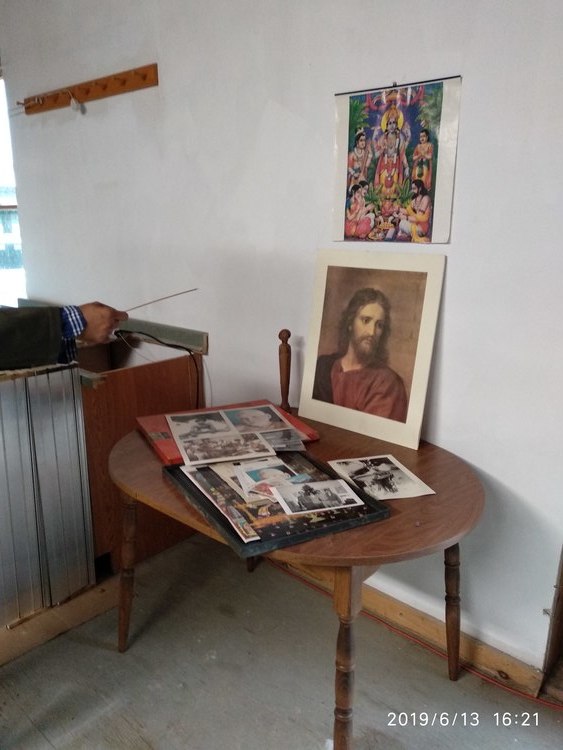 << 19-0613-162122 >> (18 of 37)



<< 19-0613-171124 >> (19 of 37)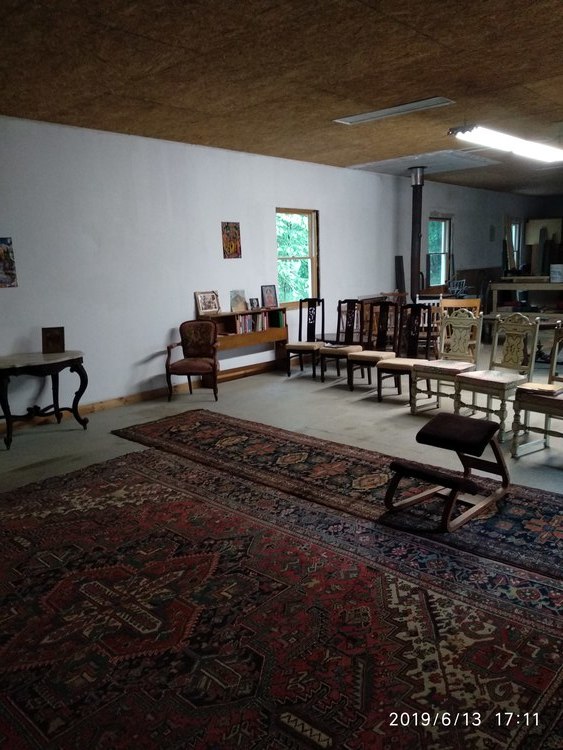 << 19-0613-171139 >> (20 of 37)



<< 19-0613-171153 >> (21 of 37)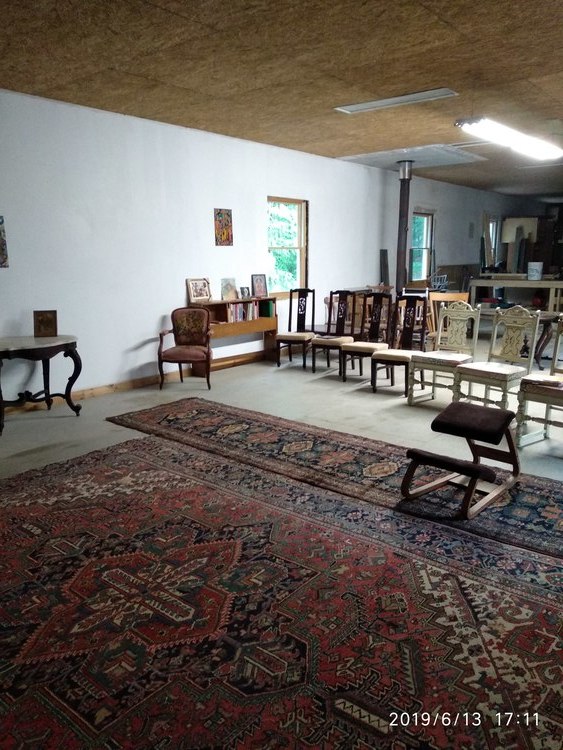 << 19-0613-183628 >> (22 of 37)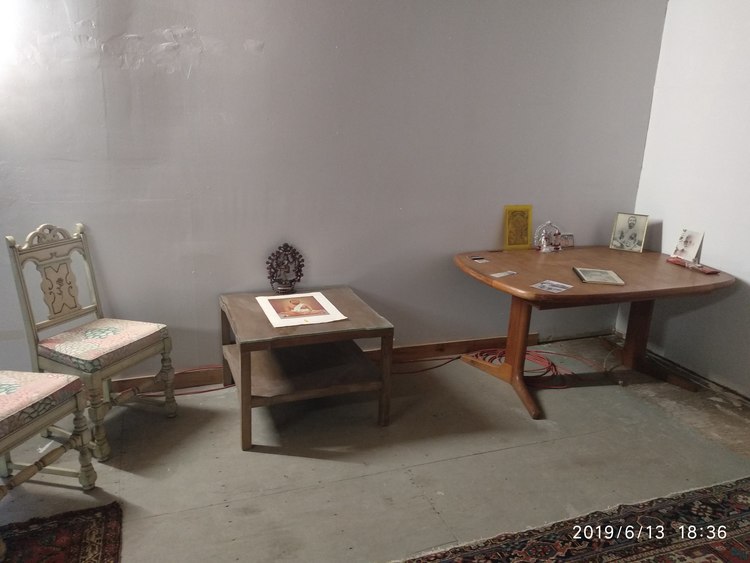 << 19-0613-183648 >> (23 of 37)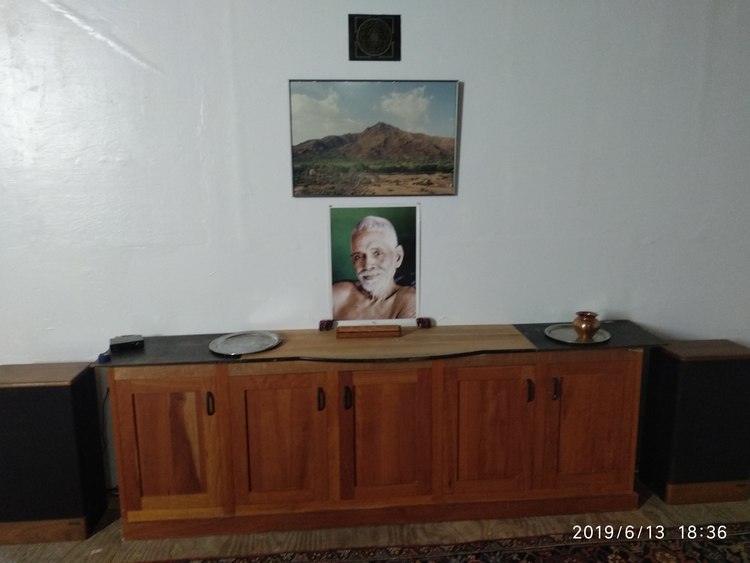 << 19-0613-183704 >> (24 of 37)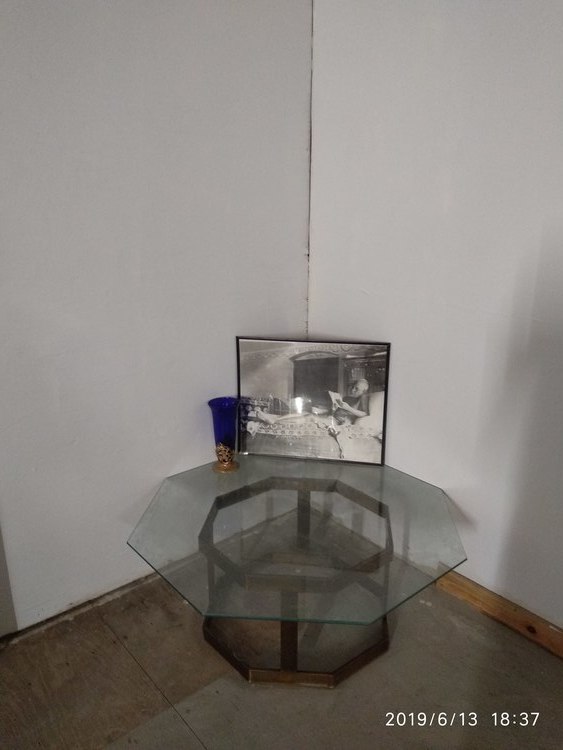 << 19-0613-183718 >> (25 of 37)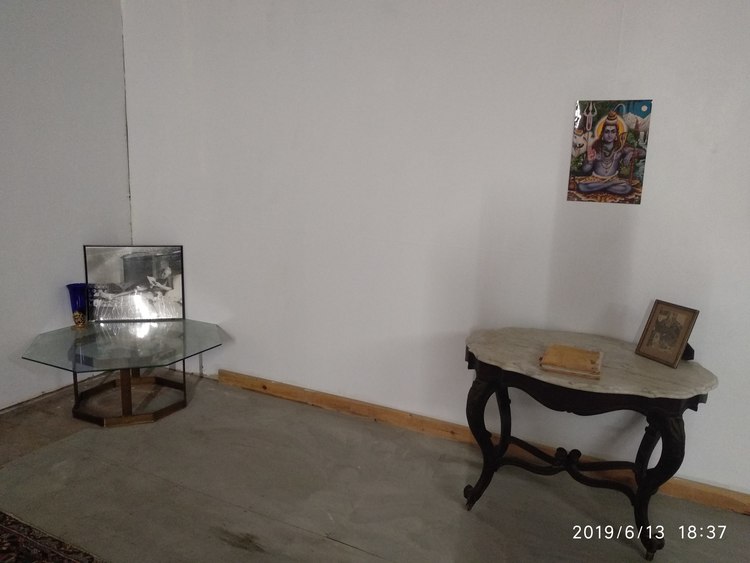 << 19-0613-183729 >> (26 of 37)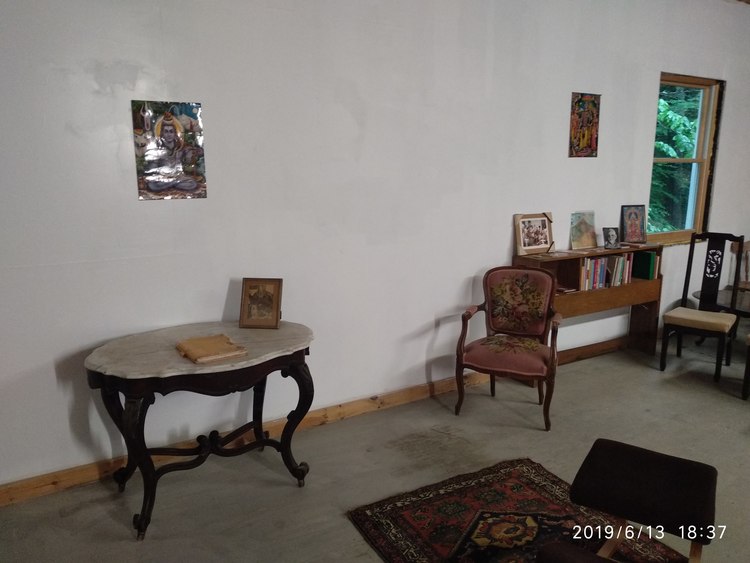 << 19-0613-183738 >> (27 of 37)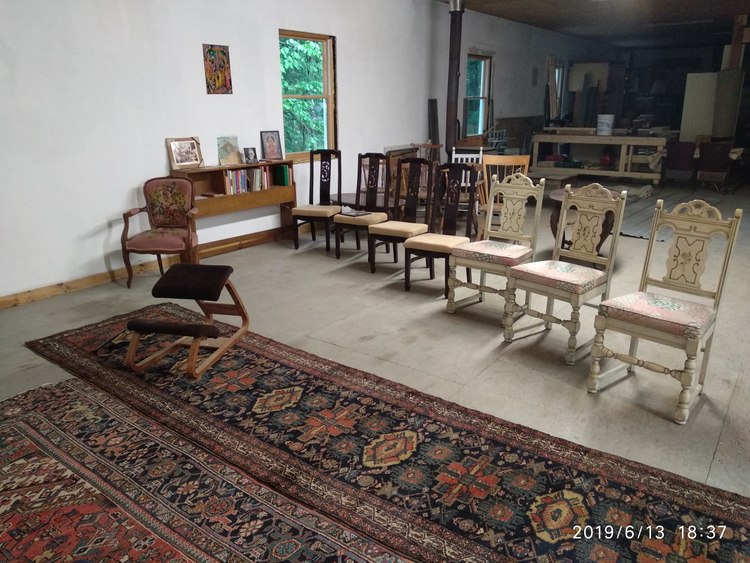 << 19-0613-183800 >> (28 of 37)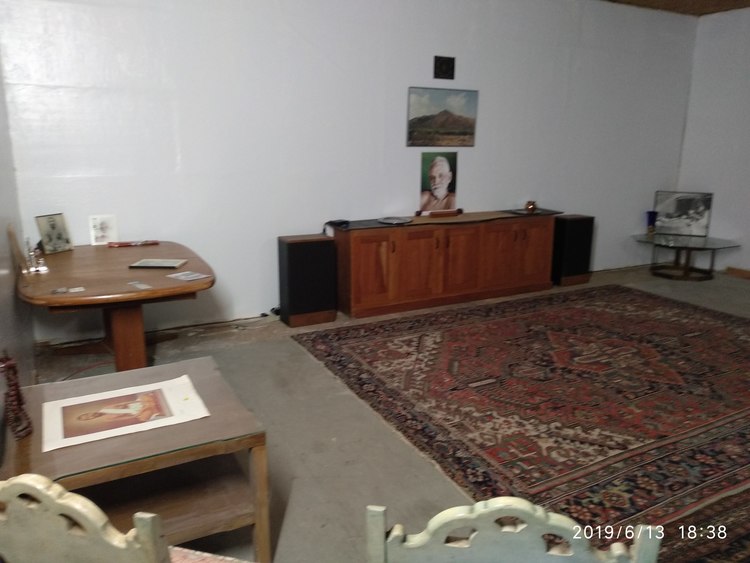 << 19-0613-184151 >> (29 of 37)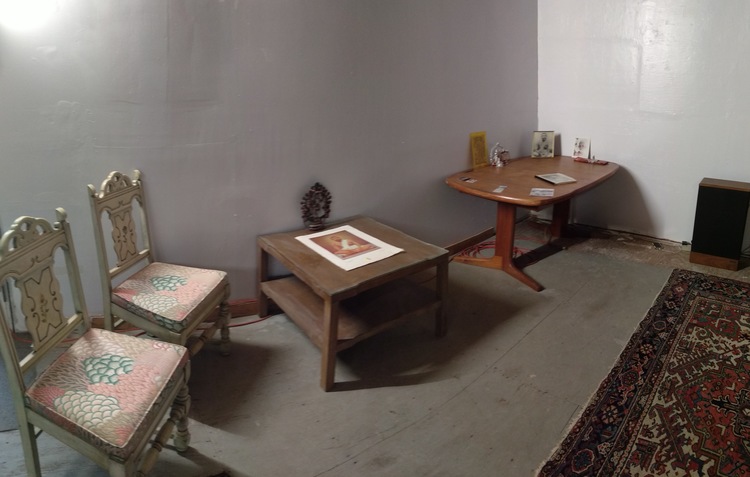 << 19-0613-184225 >> (30 of 37)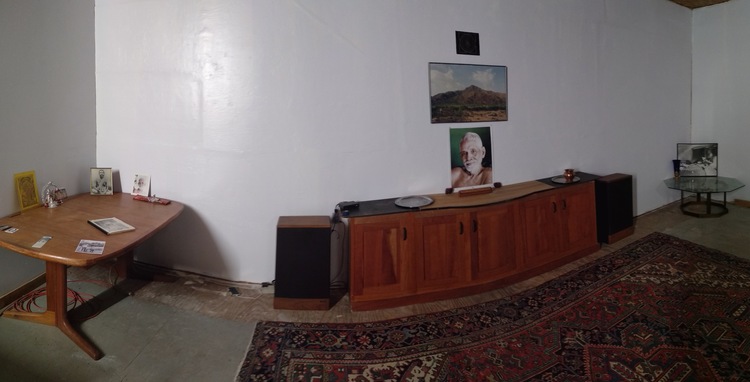 << 19-0613-184311 >> (31 of 37)



<< 19-0613-184511 >> (32 of 37)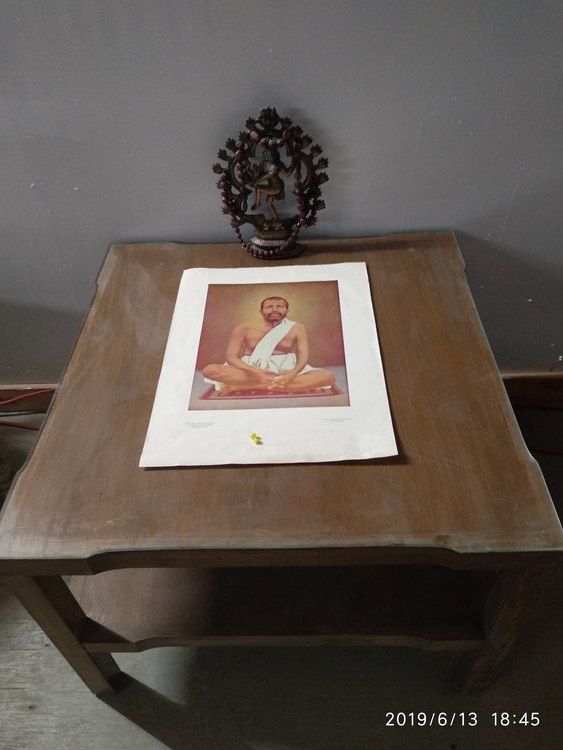 << 19-0613-184519 >> (33 of 37)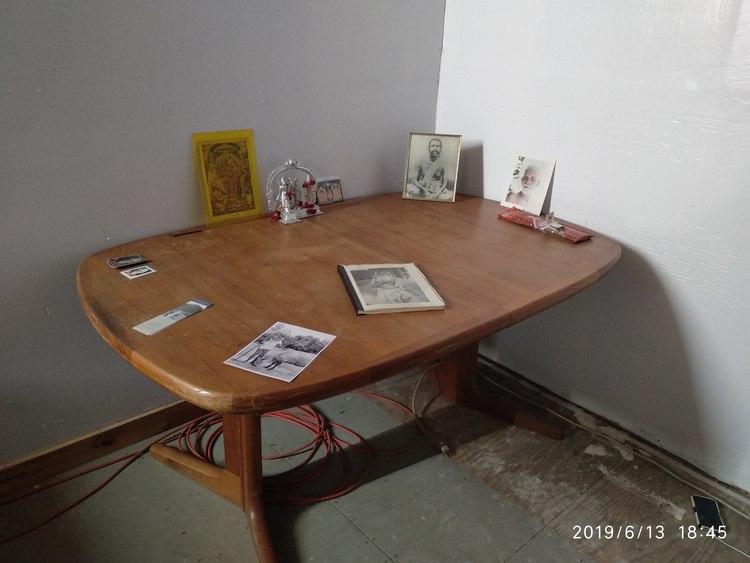 << 19-0613-184528 >> (34 of 37)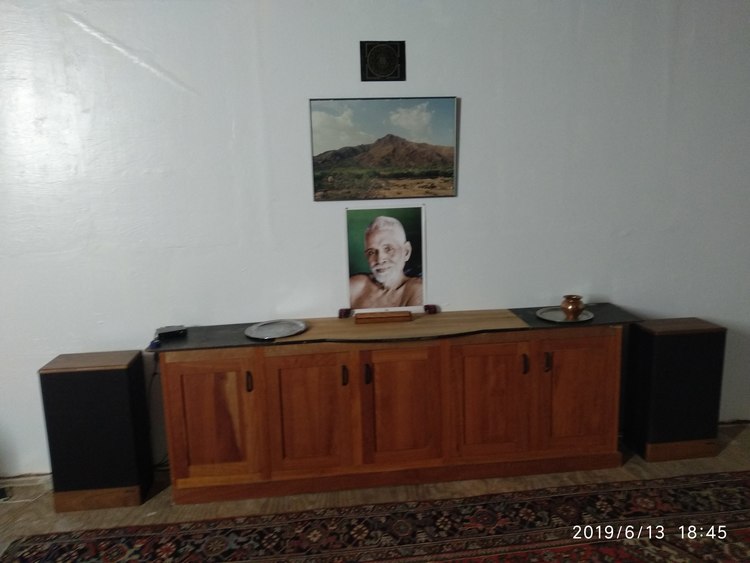 << 19-0613-184539 >> (35 of 37)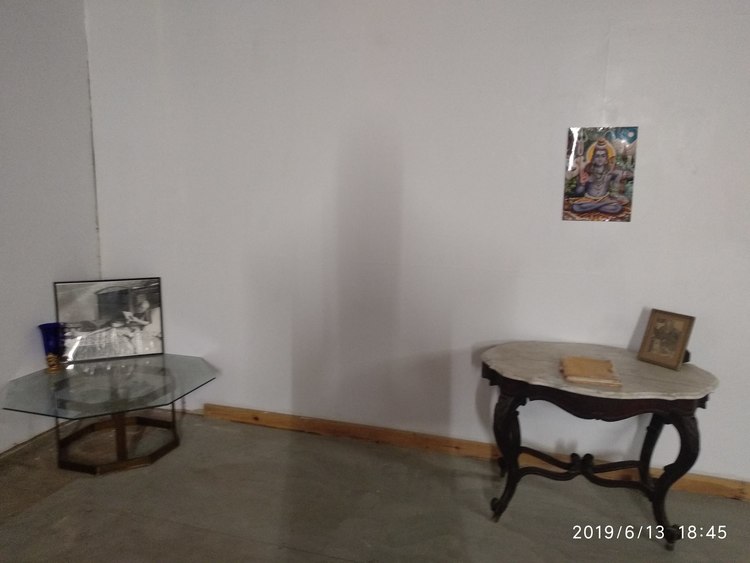 << 19-0613-184546 >> (36 of 37)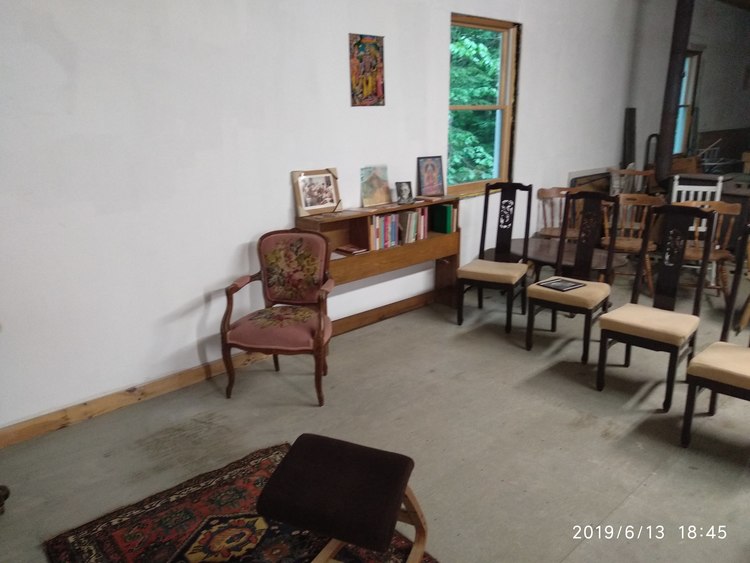 << 19-0613-184633 >> (37 of 37)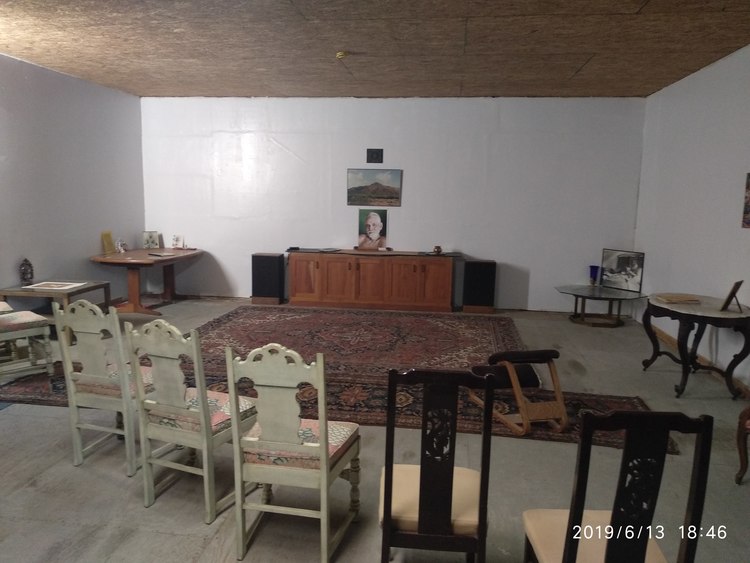 ----------------
date: 10:19 Thu 13 June

Namaskar dear friends

thanks to Bhagavan's Grace

{-: Suresh's focus, persistence & patience :-)


on the auspicious day of Nirjala Ekadasi
after two weeks of cleaning, sorting, painting, arranging furniture, posters and murtis
we did ārati, and recited Mother's Names
before the ArunachalaRamana shrine here in Fremont,NH.
May Bhagavan's devotees always enjoy the peace & tranquility of Bhagavan's Sannidhi
and hopefully find & feel it here, too.
:-)